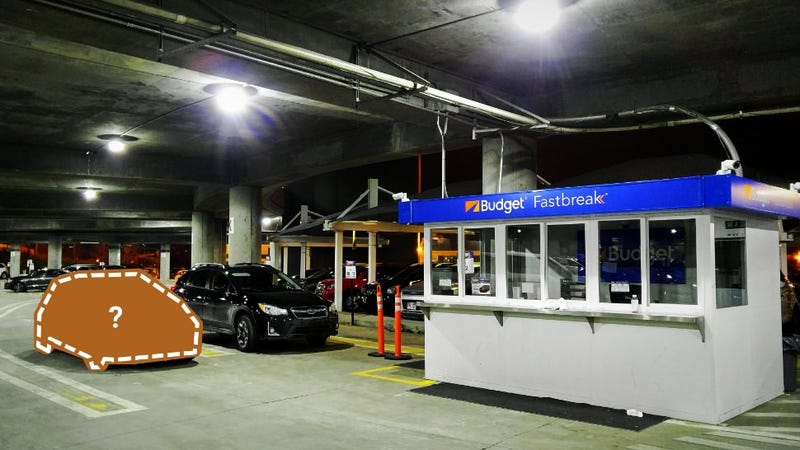 Over the Christmas weekend, my girlfriend and I took a trip to Salt Lake City to ski at Snowbird for a few days. Airport rental companies would normally have rented us a boring sedan with zero personality. This was not one of those times.
Our flight from LAX landed late on Christmas day. I stayed in the terminal to wait for the over-sized luggage to show up, while Cheri went to the rental wing. She returned after a few minutes.

"Budget doesn't have any cars left, except for one manual. You're going to have to go over there and put your name down as the driver."
"Huh?" I said deftly, lifting my head like the world's lamest superhero being called to action. "A manual transmission?"
"Yeah, you'll have to drive. I can't believe they only have one car left, even after I made a reservation! Head over there. I'll watch for the bags."
My feet carried me over to the Budget rental counter, while my mind buzzed over the possibilities. What kind of car could it be? No other rental companies in the U.S. had ever offered a manual before. I used to call every rental before a trip to see if they had anything interesting to drive, and we'd both hang up frustrated. I'd even joined National's Emerald Club in the hopes of renting a Miata, GTI, or something "cool", but nothing more substantial than a V6 Charger had materialized. Airport rental companies don't care about enthusiasts; they cater to moms hauling their family to Wally World and the sleepy suits on their way to a sales meeting. Occasionally, there's a guy who wants to rent a convertible C6 for a few hundred dollars a day so he can sit next to his golf clubs while the wind ruffles the Touch of Gray in his hair. I had stopped asking.
"Hi, my girlfriend says you only have one car left and that I have to drive because it's a stickshift," I said to the girl behind the counter, trying not to look too heroic. Her name was Abbey.
"Yes, that's right. Let me take a look at the inventory," she said, pecking at the computer in front of her. "It looks like a Ford Focus. Manual transmission."
"That's awesome," I blurted out. I know how to be charming and eloquent when called upon. I was on a roll.

Her eyes quickly snapped to my face, scanning for sarcasm. After a moment, she relaxed at my genuine smile. It was an instinct honed, no doubt, by the thousands of usual rental customers that she was accustomed to. Next to us, a man was complaining that his door buzzer wouldn't stop chiming and that he'd need a different vehicle. Further down, a mother was berating a rental agent because no one had been waiting outside at the kiosk to sign their return paperwork and help gather luggage from their minivan. In any other situation with a normal customer, a manual car would be a huge inconvenience.

"I'll go grab your keys," she said, returning a smile.

Cheri had picked up our snowboard bags and rejoined me in the rental wing. We spent a few minutes waiting before being called back to the counter.

"Here they are. Keys to your Ford Focus," Abbey said brightly.

"Fiesta," her coworker corrected.

"A Fiesta," Abbey confirmed, looking at the key tag. "It's definitely a manual though. I don't have the parking stall written down here, so your best bet is to walk to the Budget aisle and beep the key fob to find it. Here's the paperwork. By the way, are you sure you don't want an SUV? I've got few in inventory with four-wheel drive. It's snowing on the pass to Park City right now."

Cheri and I exchanged a look and shouldered our bags. "No, that's all right," I replied. There's no way I was going to pass on a Focus Fiesta with a manual transmission! Besides, an SUV would cost an extra eighty bucks per day, plus the extra gas to push it. "We're staying in Salt Lake City this weekend anyway. Thank you though."

We slushed out to the rental garage. From a dark corner in my brain, a wild thought seeped in. What if it's an ST? I banished it quickly. No rental fleets would keep an ST. It's probably one of the bargain-bin trims rented out to the most miserly of travelers. Ford has an S trim with a stick, right? Don't get your hopes up.

Out in the Budget car lot, I pressed the key fob and was rewarded by a honk to my left. I looked, and there it was. An absurd catfish mouth grinned at me, and a little red badge flashed. A white Fiesta ST!

"HONEY! Honey, it's an ST! Look, honey, look!" I began jumping up and down like a toddler. Cheri had no idea why I was so excited.

"Yes, I see. What does that mean?" she replied tiredly.

"Well, it's pretty much the same car as a normal Fiesta. Except this one has a turbo and a six speed! Plus a tighter suspension tune and…"

"Got it," she said, trying to figure out the best way to stuff two snowboard bags into it. My girlfriend is beautiful and witty, she has an irreverent sense of humor, and she's an excellent traveling companion; but a car geek she is not. More to the point, it was below freezing and she wanted to get moving. However, she doesn't mind indulging me when I'm clearly excited. She let me fawn all over the car while she scraped ice off of the windows.

We struggled to come up with a name before we realized that he already had one. Manuel it is, then.
Over the next few days, the little car served us admirably. It wears the adorably homely look of a bulldog puppy, and tugs its leash happily when prompted. It has four practical doors and the hatch swallows gear when the rear seats are folded.


Little Cottonwood Canyon Road has too much traffic during the ski season, so I didn't really get to toss this thing around as much as I would have liked. I was also wearing clumsy leather work boots, which muffled pedal changes. Dry curves were fun to pull through when there was space between cars, thanks to the quick ratio steering and sorted chassis. Steering remained predictable on leftover snow patches, though you won't mistake it for an all-wheel drive car.
Parking on snow and ice-covered hills required some planning to make sure we didn't get stuck spinning; it was still wearing its Bridgestone summer tires, and we did not have chains. Best of all, the rent was cheap and Manuel returned 31 miles per gallon, even with a bit of caning.
Before we returned the car Monday morning, Cheri spent a half-hour practicing her clutch work in the SLC airport parking lot. We can't practice on my Tacoma, because the bottom of the clutch is too far away for her. She laughed after a few pulls in second gear, which is the appropriate response- so there might be some gearhead buried in there.
When we pulled into the rental lot, I spied a second ST in blue! I returned the keys reluctantly to Abbey, who remembered me for being weird. Thanks to her and Budget Car Rental for the fun weekend. It was just about the best Christmas present I could have gotten.
Oh, and the snow was pretty great too.